As the competitive climate heats up, more and more companies are seeking ways to improve their profitability. There are two ways of achieving this: either reduce costs or increase revenues. The right formula is, of course, to seek to balance economies with revenue growth.
Unfortunately, the former tends to take precedence and it is only rarely that companies seek to tackle the latter. This is probably because improving the productivity of a sales process is viewed as far more intractable compared to wielding the blunt instruments of margin squeezing or slashing expenses. In the long run however, survival can only be assumed by increasing the number and value of a company's customers.
Selling is science – the Executive Relations Cycle
If we are to increase our sales, we must improve the effectiveness of the sales process. We must attend to the eight stages of the selling process and acknowledge that they are cyclical in nature.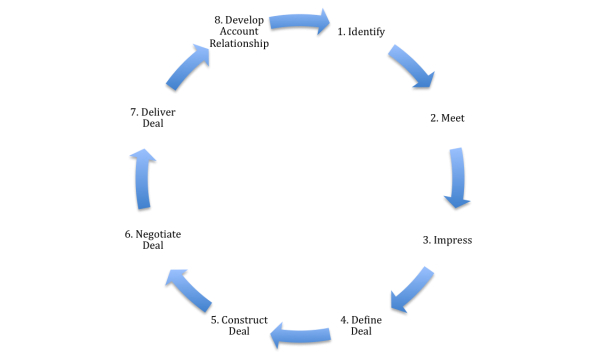 Increasing sales – Executive Relations
As the old adage goes "people buy from people." During the sales process, a great deal of time is spent by the seller, establishing the necessary rapport with people from the buying company. This often proves difficult when the seller is expected to build an unequal bond with the senior buying management of their prospective customers, i.e. selling upward.
In an ideal world a relationship would already exist between the senior executives of both organisations. This provides "air-cover" for the seller who is thus free to concentrate on constructing and winning a deal.
Executive Relations is the "managing of the process" of building long term relationships between senior executives.
Increasing Sales – Inconcert
Inconcert is intended to be the best provider of Executive Relations services to all stakeholders in conjunction with the in-house marketing department, or as a comprehensive outsourced resource. In both cases we will work very closely with our stakeholders in order to define an Executive Relations programme. From identifying ideal targets, arranging unique customized events, or managing the follow through process. Inconcert supports the client through all relevant stages of the Executive Relations cycle.